Company Profile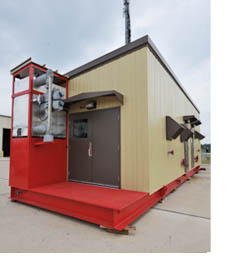 Phoenix Pump, Inc. was incorporated in January of 1992 as a company specializing in the sale of pumps and related equipment to the offshore markets worldwide. Since then, Phoenix Pump, Inc. has expanded its sales efforts into the Commercial Fire, Plumbing, HVAC, and Municipal markets along with the industrial markets, including Engineering Contractors, Chemical, and Petrochemical plants. Since 1994, Peerless Pump has presented Phoenix Pump, Inc. with the "Top Ten Distributor Award" for eight of the last eleven years. At the 2001 Distributor / Sales Convention in Las Vegas, Peerless Pump recognized Phoenix Pump, Inc. as their Top U.S. Distributor and presented them with the "2001 President's Award".
In early 2000, Phoenix Pump added other pump manufactures to its portfolio, including National Pump, MTH Pumps, and NIKKISO Metering Pumps. In an effort to complement the pump lines, Phoenix pump also offers OCV Valves, a specialty line of control valves for the Municipal and Fire Markets along with Warwick Buildings of Texas, a line of Self Framing Buildings supporting the packaging side of the business. In 2005 SPP Pumps, the oldest fire pump manufacturer in the world, was added to Phoenix Pump, Inc.'s portfolio for Offshore and Onshore Fire Pumps.
Mission Statement
Phoenix Pump will continually focus on the goals of supplying our customers a quality product at a fair price … on time. We will tirelessly work with our partnering suppliers and challenge them to attain these goals on behalf of our clientele. Through these efforts, we will meet or exceed our customers' expectations while providing value-added services and support. Longevity with profitability is our reward for creating satisfied customers.